Take a sneak peek at the solution?
Scroll to the end of post to view a video prototype walkthrough of the solution. 
The Brief & Background
This project aims design a mobile app to improve the travelling experience on public transport in Singapore.
SMRT Corporation Ltd is Singapore's premier multi-modal land transport provider. Their core businesses are in rail operations, maintenance and engineering as well as in bus, taxi and automotive services. SMRT launched their mobile transport app 5 years ago. Today, the SMRTConnect app received a 2.5/5 ratings in the app store. We read through the reviews given and noticed that there was a lot of usability problems in the complaints. 
The brief is to improve the current app by evaluating and identifying problems, propose solutions and find opportunities to deliver an even better user experience.
This documentation is the result of a 2 weeks sprint done by 3 UX designers.

The roles I took on is: Project Manager, User Researcher, Interaction and Visual Designer & Prototyper.

Heuristic Evaluation of the current SMRTConnect app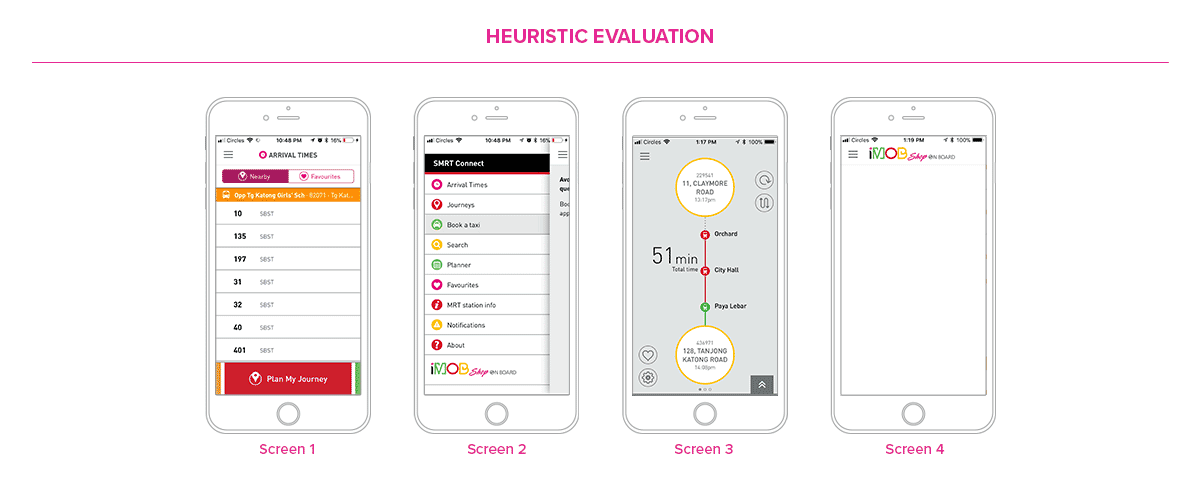 Screen 1 Issue: Critical Credibility of Information
• Information was only provided for buses run by SMRT and not by other competitors.
• Scrollable carousel navigation at the base does not show users all the available functions in the app.
Remember:  Out of sight = out of mind.
Screen 2 Issue: Recognition rather than recall
• The different colours used for the navigation does not help organise the information better or remember them.
Screen 3 Issue: Lack of information between trips
• Information does not show the duration for each transfer (e.g. from bus to train to bus).

Screen 4 Issue: Lack of error management
• There is an error on the iMOB function. The page loads empty.
* A full report of Heuristic Evaluation is submitted.
Usability Testing & User Satisfaction Survey on the current
SMRTConnect
app (6 users)
From the survey results, 83.3% of our users rated the app 2 and below for being helpful and 100% expressed their dissatisfaction with the app. Looks like we have a lot of room for improvement.
We also evaluated the current app and competitor apps to come up with a list of problems we would like to fix and improvements we could adopt.
We started the process of understanding more from our user interviews (8 users) by mapping out the users pain & pleasure points during their daily commute. 
The Affinity map helped us identify 3 key personas.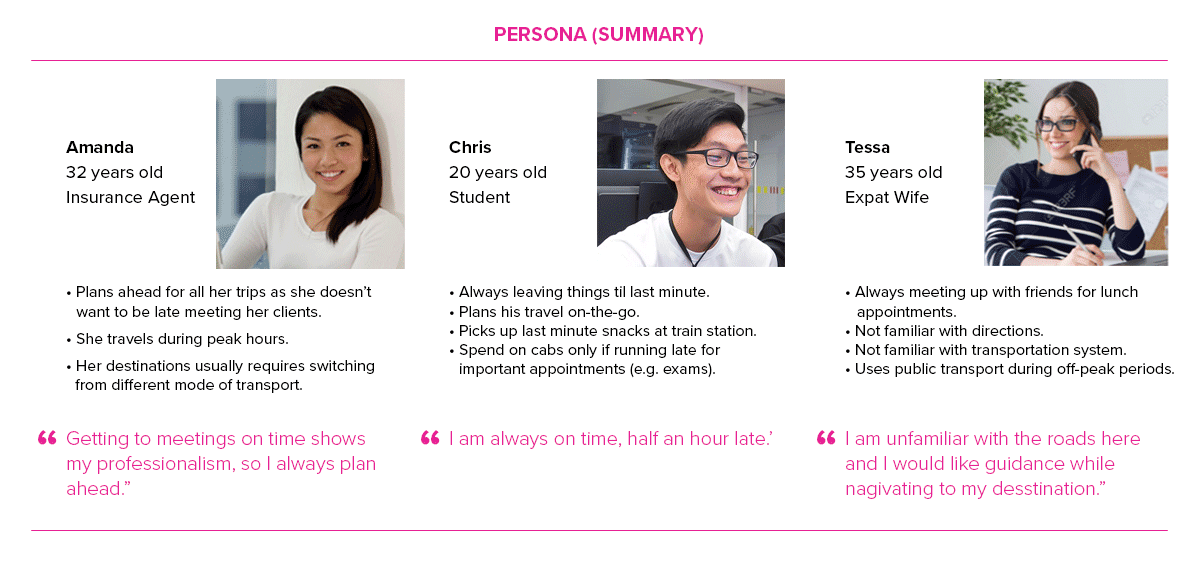 I am sure you will know a Amanda, a Chris and a Tessa amongst your friends.

Because Tessa seems to be the most demanding with her transport information, we decided to focus on her journey for this Sprint.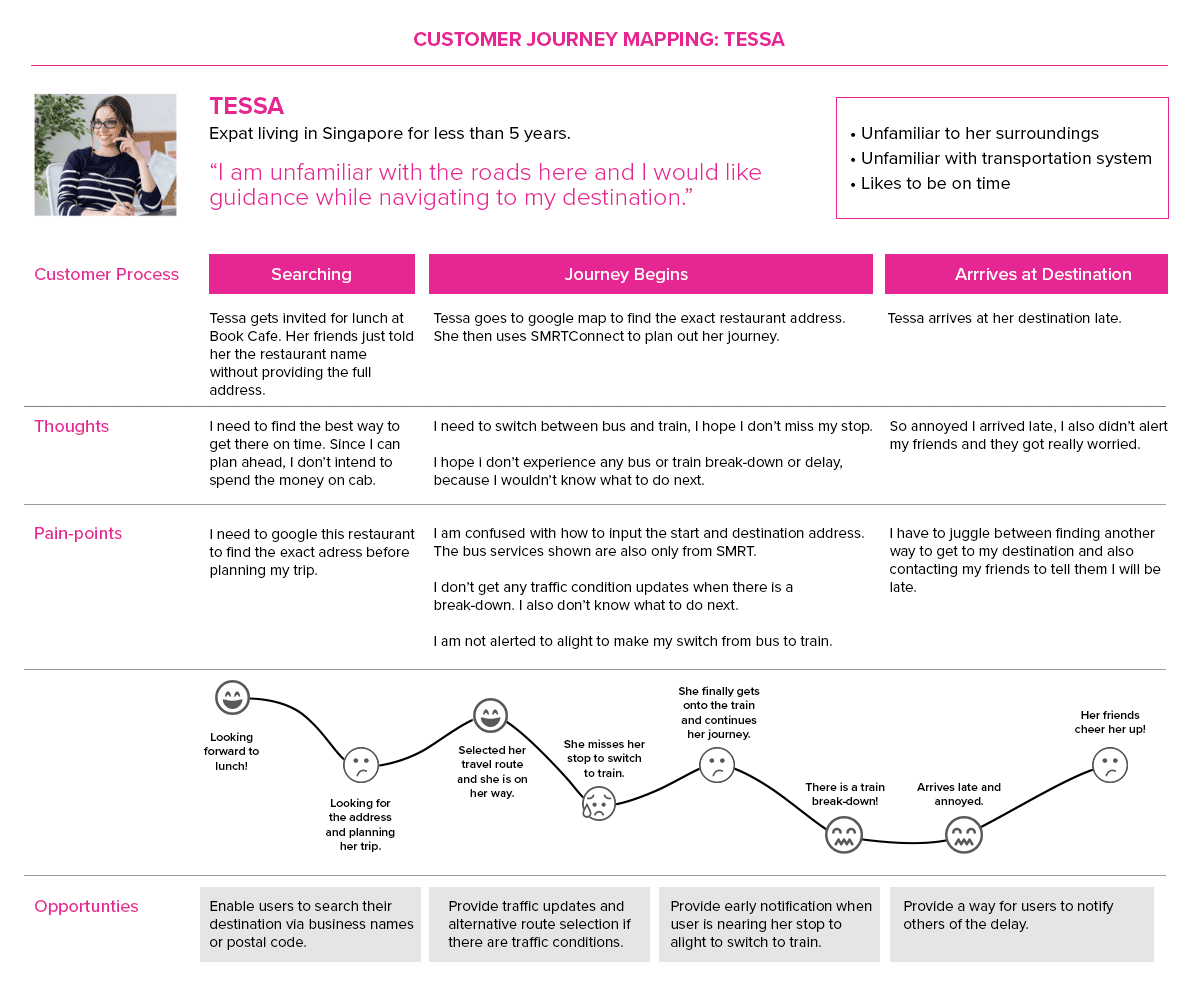 With the consumer journey map, we could identify areas where Tessa experience the mostly difficult and that gives us a window on opportunity to come in and "save the day".
From these user stories, we were able to come out with a list of features to focus on, not just for Tessa but it includes some areas that can be improved for Chris and Amanda as well.

We realised that one of the common pain-points while accessing competitor apps is learning to use their complicated interface, we think that SMRTConnect as a challenging product has the opportunity to be something unique and different.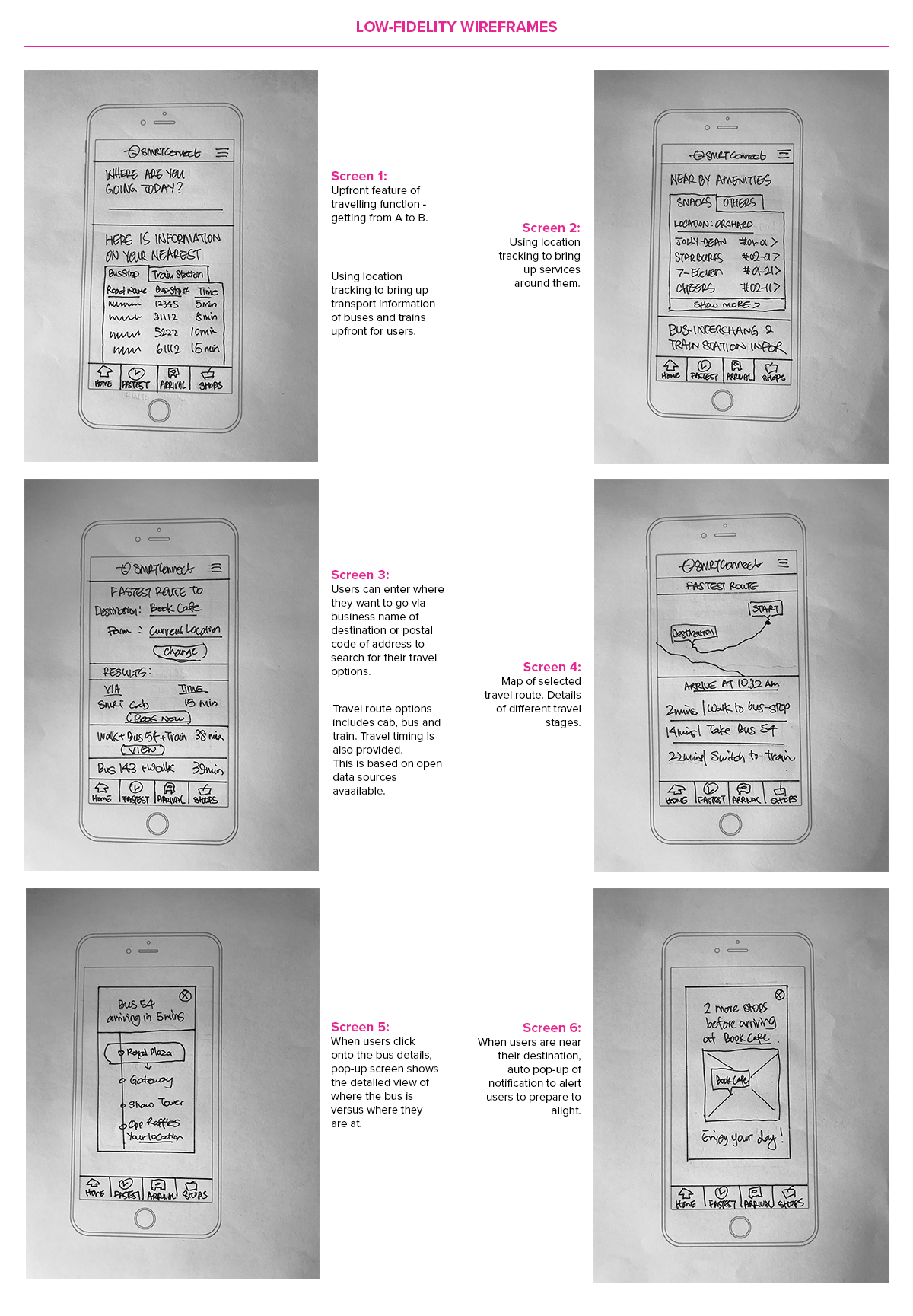 Usability Testing of Wireframes
Wireframes testing came back well-received. Users were able to reach their goals easily. They also like the simplified interface. Some of their concerns are:
• Screen 1: Input field for destination is not obvious.
• Screen 3: Users want to know the time taken for each stage of travel (e.g. walk, bus & train) up front.
• Screen 4: Besides timing, users wanted a better way to determine when they are suppose to alight. For example, bus-stop counting down feature.
• Screen 5: Users liked the tracking box that tells them where they are at, at any moment of travel.
Taking these comments into consideration, we went back to the design stage and re-iterated the wireframes to refine each screen to improve tracking of the users during their journey and any notification alerts they might recieve. 
Final Hi-fidelity Interactive Prototype Design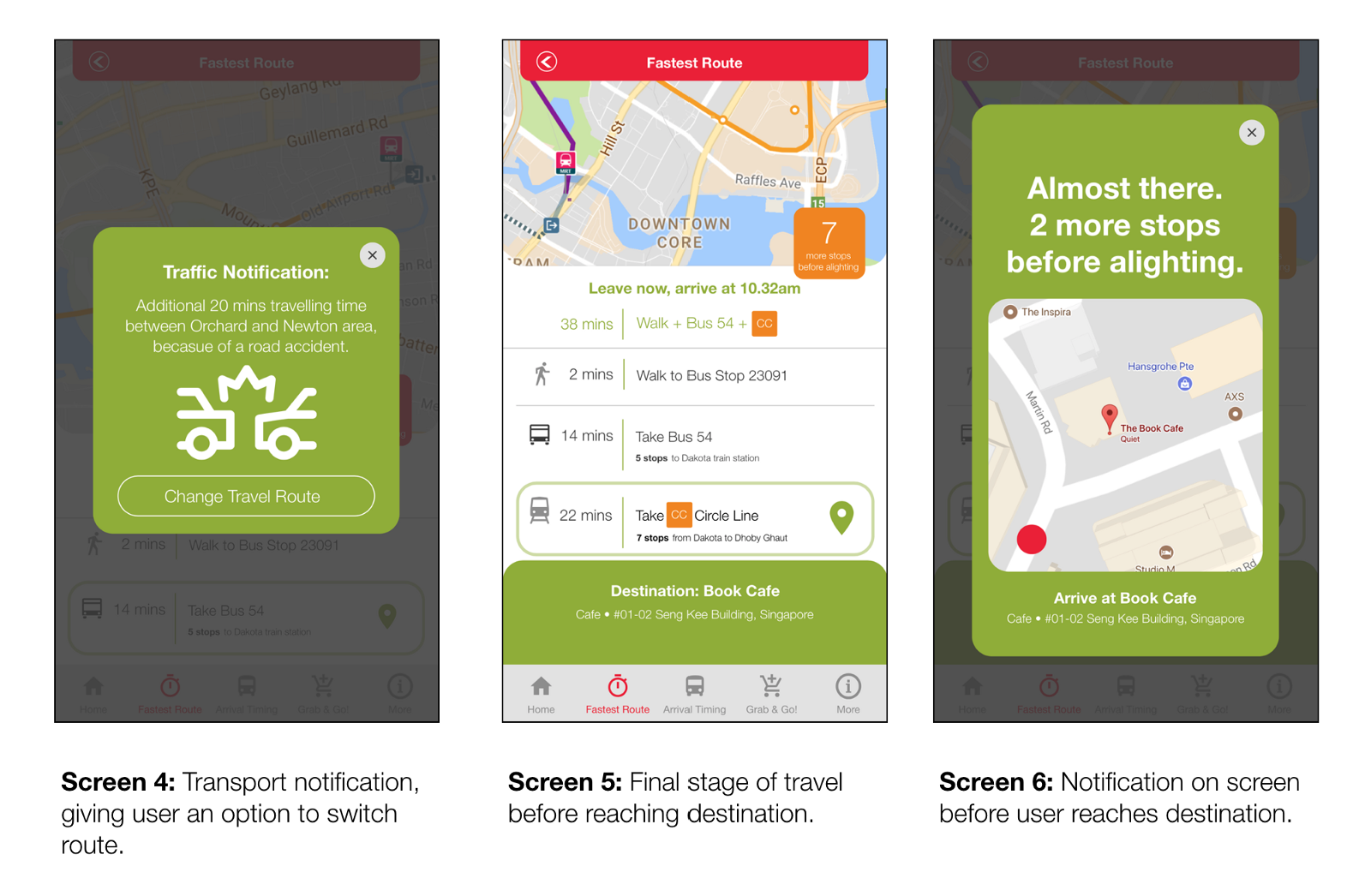 Usability Testing & User Satisfaction Survey on Final Hi-fidelity Prototype 
(6 users)



The results we got back from our final user testing was very encouraging. We see a vast improvement as compared to the existing app. Our users also feedback positively about the drastic changes we have made to the existing app. While doing the last round of user testing on the prototype, we also got a list of usability issues which we looked into and fixed.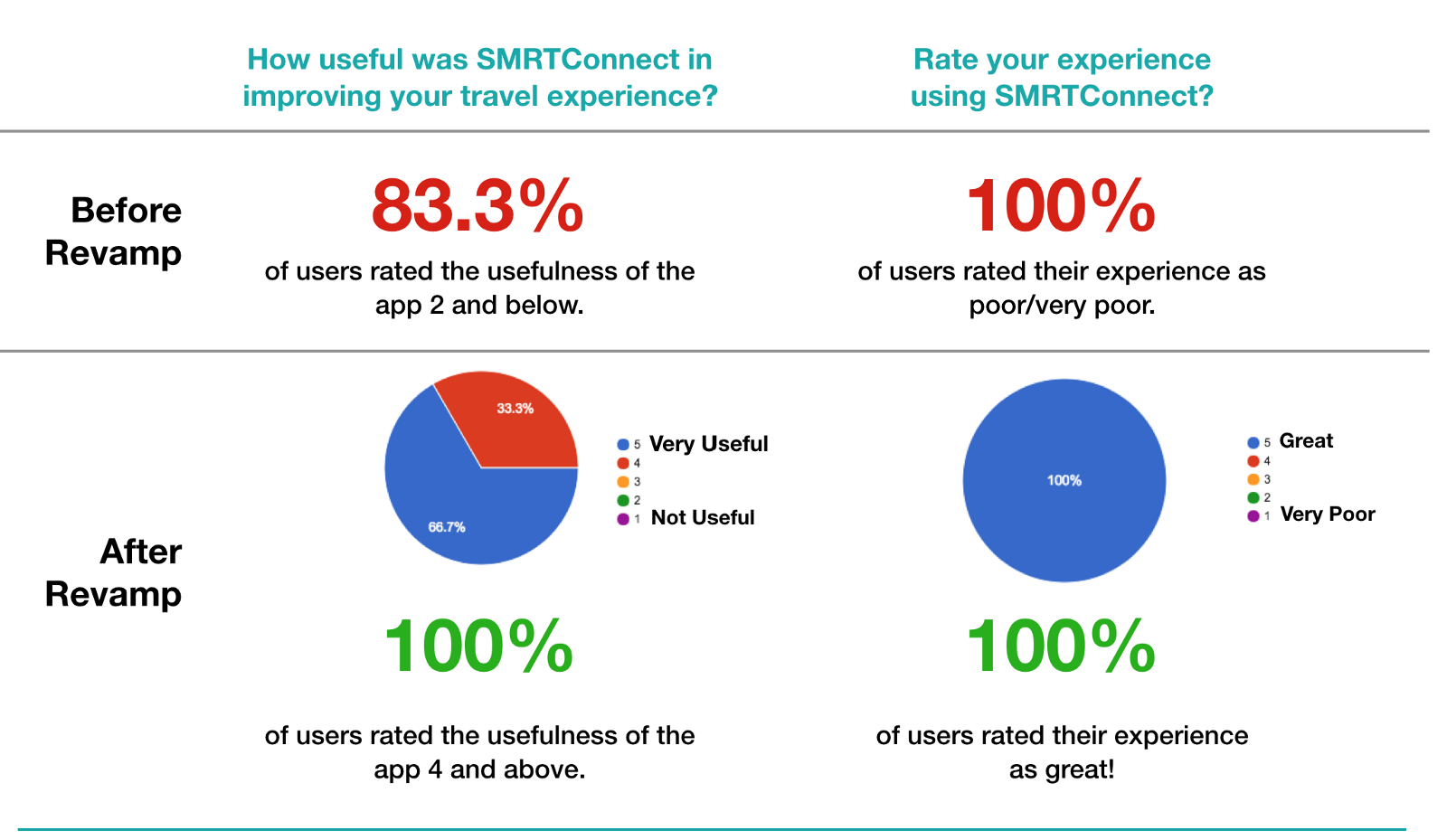 Here is a Video Walk-through of the Prototype