Take a sneak peek at the solution? Scroll to the end of post to view a video prototype walkthrough of the solution. 
Introduction to Singapore Polytechnic
Singapore Polytechnic (SP) is the first polytechnic setup in Singapore since 1954. A polytechnic education offers a three-year diploma program in various disciplines, including business studies, engineering, humanities, digital media, and many more. They aim to provide students and adult learners with professional skill to  better their future. Currently, SP offers 46 full-time diploma courses and enrol more than 14 thousand students every year.
The brief: Improving enrolment by making sure course information is easily accessible
With such a huge offering in courses, it is important to make sure prospective students find and compare suitable course information easily. The current website contains all the information but the main feedback has from users have been the difficulty in finding the necessary information they need. Here are 3 typical users of the website that we would like to make this process more efficient.

My Role for this project:
The duration of this project is two weeks. I worked alone, taking on roles such as: a User Researcher, an Information architect, Interaction and visual designer, a Prototyper & a Usability expert.
Looking into how users find content: Content Audit for better understanding
A site content audit is necessary to better understand the functional areas and components of the website. Forms, information, content and the quality of a website are reviewed. This is done to identify and improve any shortcomings that might not have been picked up.

Findings from user interviews & testing:
Through my user interviews and testings, I discovered that there are a few major issues that causes problems for the users while they are navigating through the site:
1. Users stop many times while using the site because of

ambiguous labelings

 of content
2. Users are also confused through different sections due to 

inconsistency of navigation


3. While switching from lap top to mobile usage, the complete change in content also threw some users off.
4. Users looking for part-time or short courses have the most difficulty as these content have their own section.
"Is the laptop and the mobile version different website?"
Amanda, 23, prospective student
Finding out if the way the navigation makes sense for users
We did card-sorting exercise with 8 users that consist of current students, prospective students and working professionals. The objective is to find out how they organise and sort out different information like course information, course description, financial assistance information, career advice, school activate among others.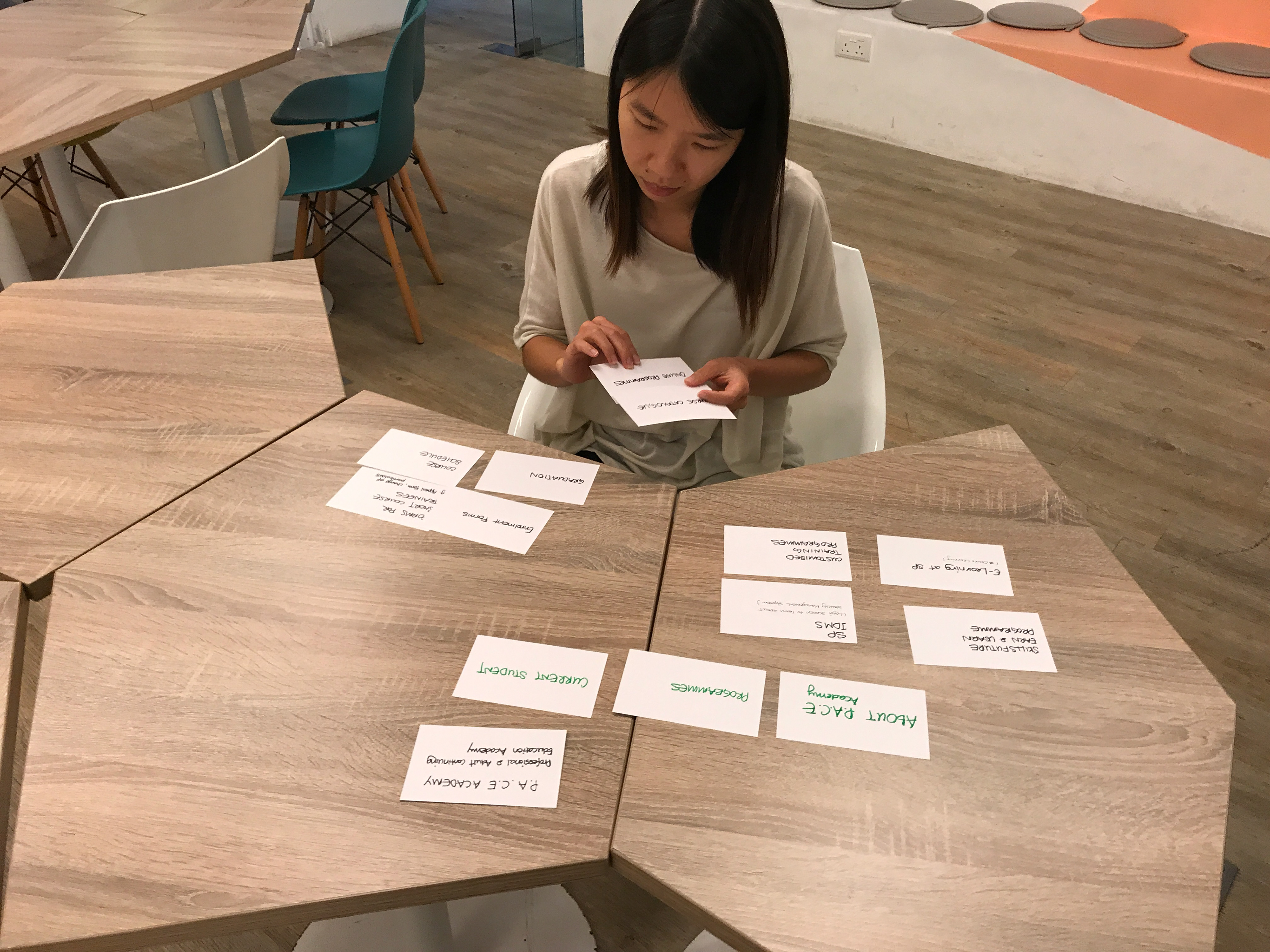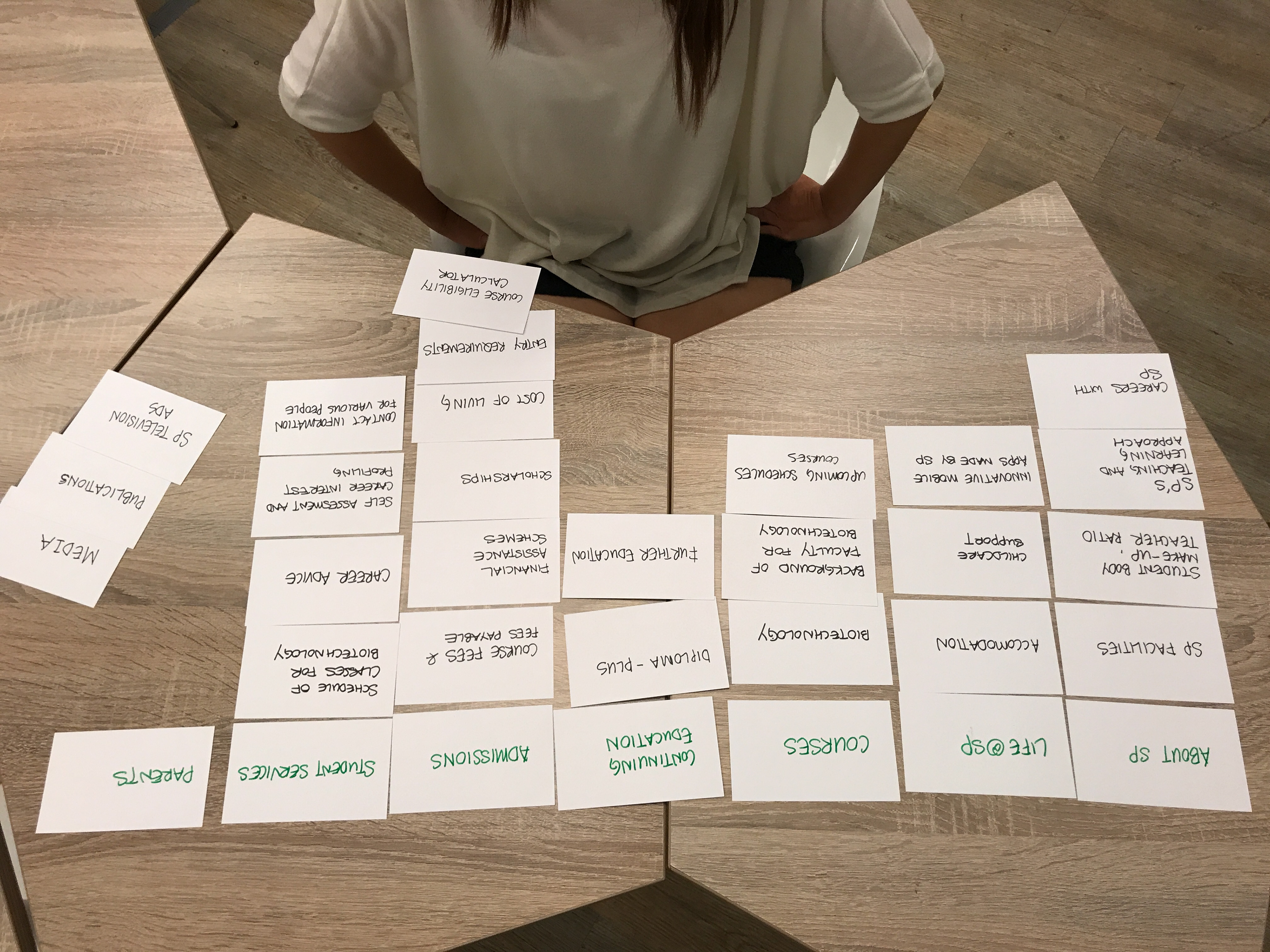 Re-designing the navigation and putting it to the test

From the findings of my card-sorting, I was able to redesign the current navigation by replacing some labels, re-organising some content to a more logic location for users. It is time to test the new navigation out!
Failed results from Tree Test 1 & 2, and why:
The results came back with major failure across all 3 questions. Something was wrong and I needed to find out why. I interviewed each user who took the test and studied the path way they took to discover the content. I discovered that users are confused between the term "Continuing Education" and "Life-long Learning". Life-long learning was an extra category name we added to replace Further Education. On hindsight, we should have also tested if users understood this new term that was derived from our hybrid card-sorting exercise.
With this, I had to go back to ground ZERO and start re-designing the navigation again, but time was running out fast. I re-designed the navigation and sent it out for a second round of testing.
For the second round, we broke down the category "Further Education" and merged the content into one big category under "Courses". We immediately saw improvement from the results. However, there was still 2 task users were failing. I discovered that whenever I request any information to be found under "Continuing Education", users will always fail the task.

Realisation & initial mistakes made:
I discovered that users don't necessary think that the section "Courses" are build for specifically for prospective students. They would naturally think who-ever they might be, when they are looking for courses, they would click into this category.

Current, for working professionals, I have retained the category "Continuing Education" based on the fact that this is such a strong taxonomy across all education websites when I was doing competitor anlysis. My natural assumption was, if this category was used throughout other competitive websites, isn't only natural to assume consumers would know it? Unfortunately, from my user testing, the results was telling me otherwise.
Dealing with a tight timeline and moving on:
With time running out, I had to make the assumption that users do not differential between "Courses" and "Continuing Education" when they are searching. So I collapsed the content under Continuing Education under the main "Course" tab and started my prototyping with the intention to validate this during user testing.
Considerations during my prototyping process:

During this stage, I looked into making the navigation easily for users to use by deploying techniques such as delay progressive display of the mega menu. I reduced clutter and decision points for users so that it can be less overwhelming. 
What changed for the user?


Using the persona Mark (prospective student), let's look at how we have improved his user flow: 
Task 1:

Mark cannot decide between his 2 interest which is Game Design and Aeronautical Engineering. He wants to compare what each of these course will be studying.
I introduced a new course comparison features that would help prospective student look at information of courses side-by-side.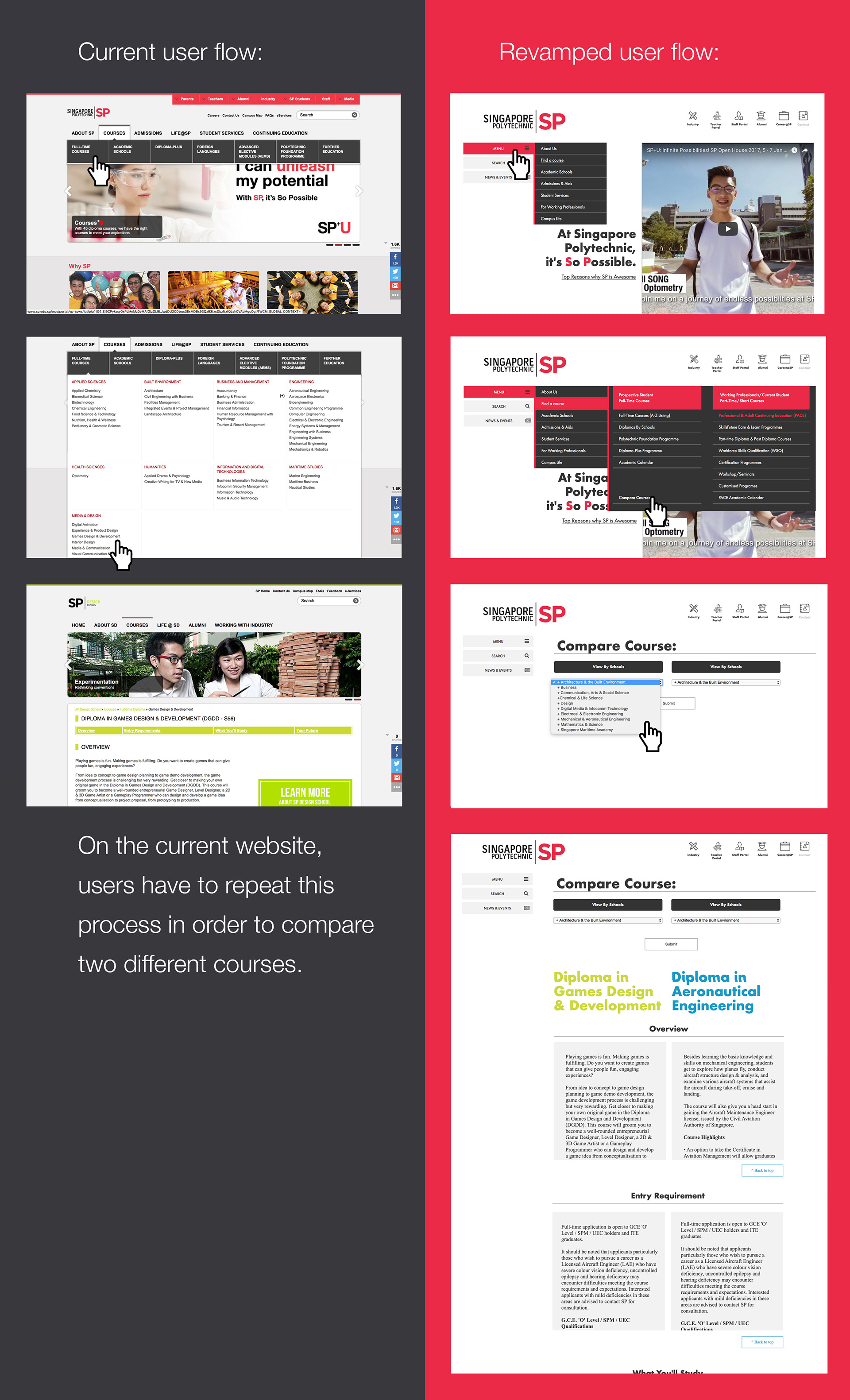 Task 2:

Mark would like to check out the cannot decide between his 2 interest which is Game Design and Aeronautical Engineering. He wants to compare what each of these course will be studying.
I re-designed the flow to be faster by deploying fast click jumps within content on the particular page.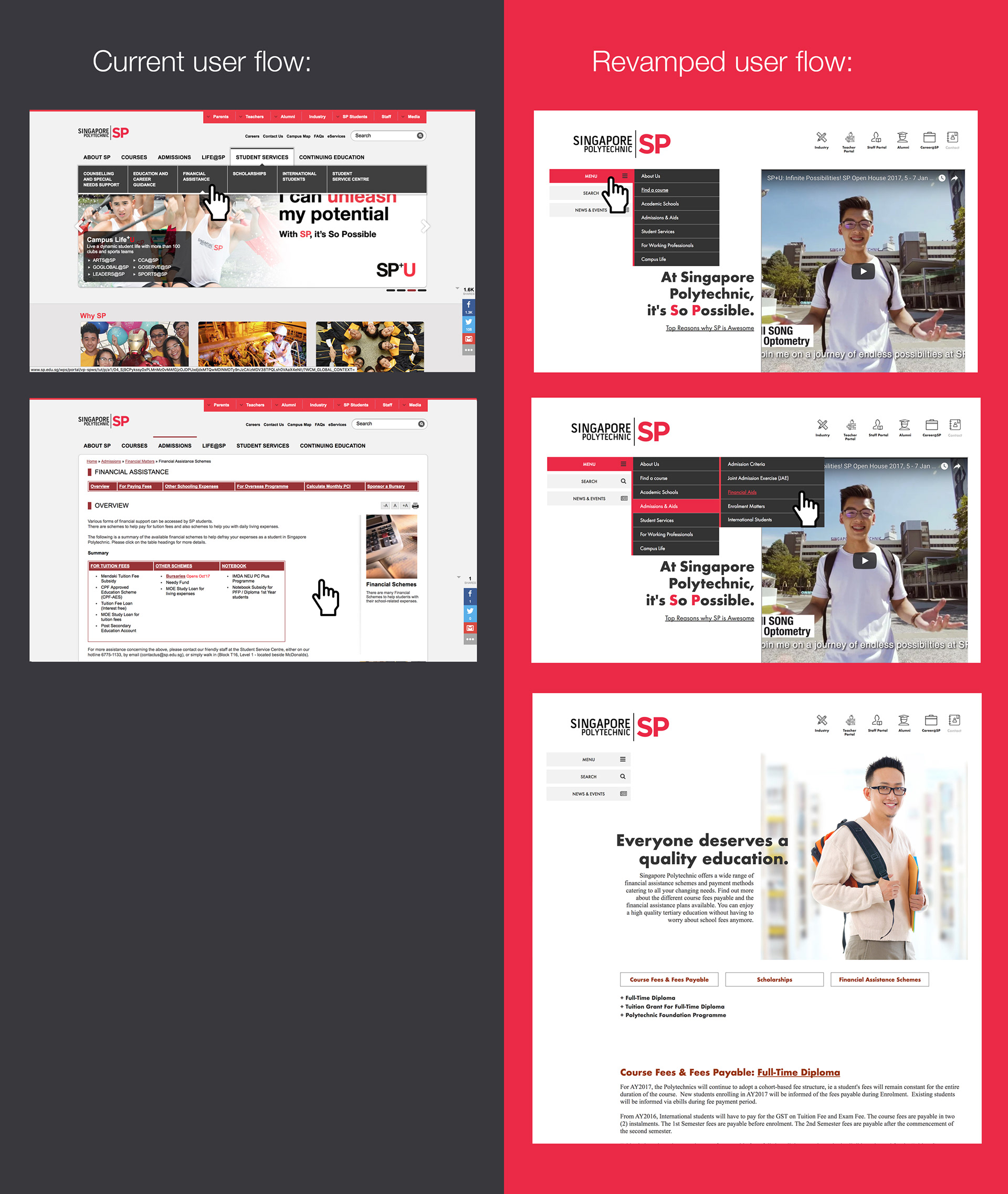 Task 3: 

This task is for John (a working professional looking for a skills upgrade). He wants to simply check out what part-time courses are available for him.
I re-sorted and re-designed the navigation so that it is more useful for users to find the information relevant to them.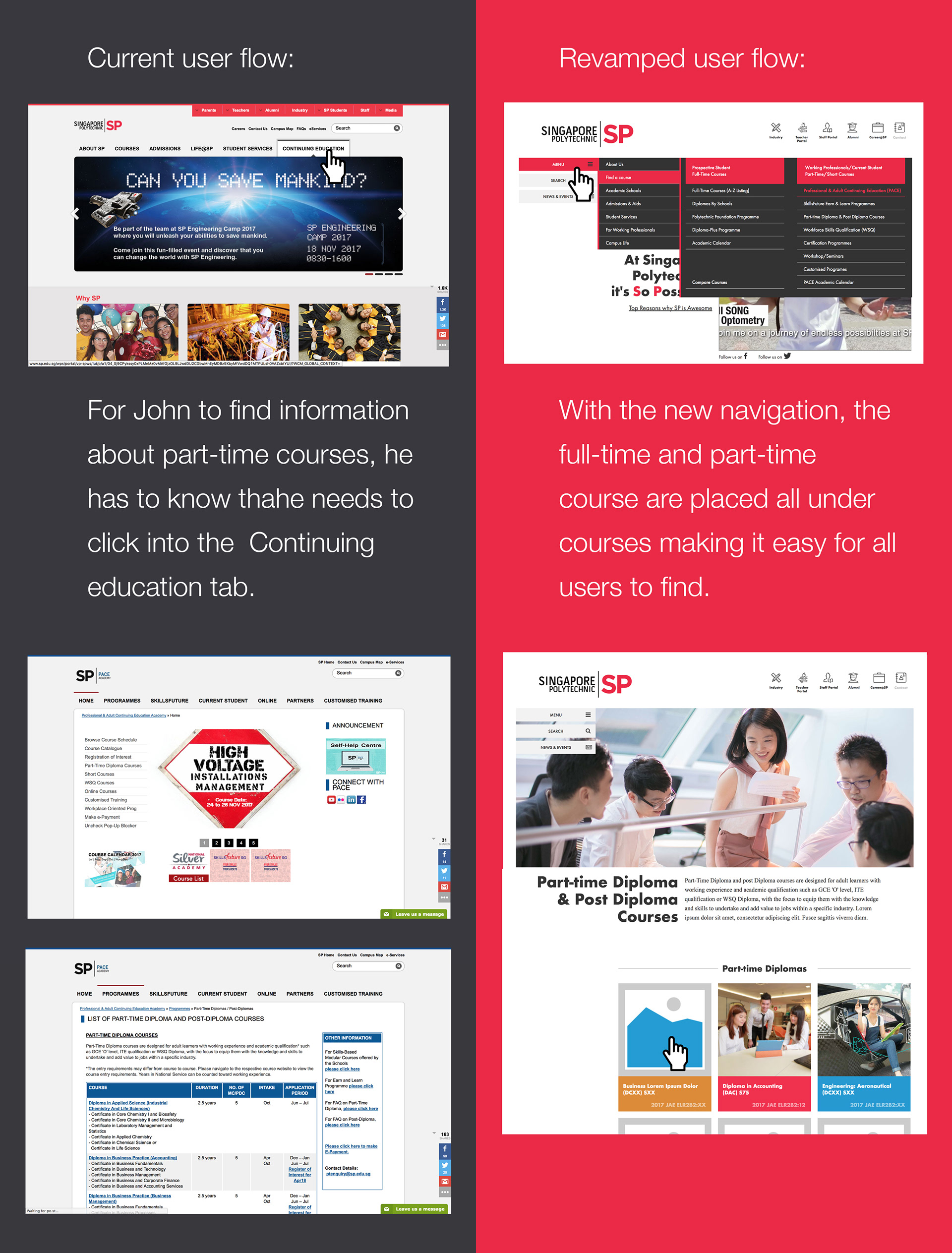 The final results and what I achieved:
With the final testing on the prototype, I was able to achieve a 90% success rate on all the tasks. There was also a lot of delight and pleasure from using the new interface. 
Simply view the video below to see the interaction with the new site. 
Hope you like this project. Share and message me a feedback any time!